The curious and nuanced art of élevage in the cellar has been described as "raising" or "elevating" wine from its raw form to maturation. At Analemma, we believe the most important role we play in this process is to act as a keen observer and thoughtful guardian; to translate the raw flavors of the fruit we've farmed into a full expression of the land where it's grown.
Just as the analemma represents a unique fingerprint of a place, we strive for each bottle of wine produced in our cellar to serve as a totem of its place of origin. Each vintage presents an opportunity to build on lessons learned the year before. Through meticulous farming and careful observation, each vineyard site and grape variety reveals its secrets, lifting the veil inch by inch, year by year.
This pursuit of a deeper understanding is evident in the history of Mencia at Analemma. As one of the first domestic producers to plant Mencia vines, what began as a pilgrim's quest has developed into a deep relationship with this widely unknown variety. Today, Mencia vines are planted across three distinct soil types and through three different trellis systems in our estate vineyards. Mencia receives dynamic experimentation in the cellar through various strategies of fermentation and sees maturation in over half a dozen different types of vessels—from oak barrique to concrete to stainless steel.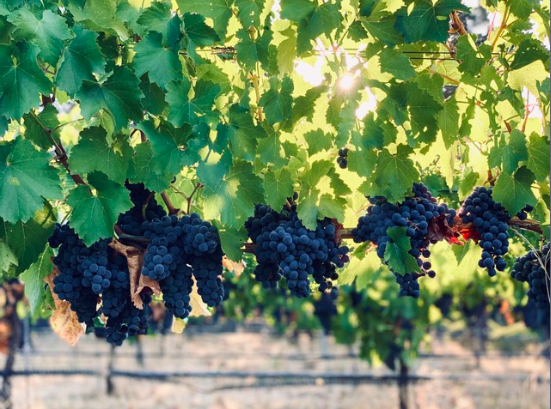 This spirit is the cornerstone of our Fall 2021 release – our dedication to elevated understanding – embodied by the inaugural release of the Mencia Mayor. Translated from Spanish, "mayor" means elevated, or distinguished. The Mencia Mayor reveals a distinguished and elevated expression of our classic Mencia and the discovery of what is possible from a rare variety in a new landscape.
Fall Release Wines
The first release of its kind, the Mencia Mayor is the result of careful selection. This thrilling wine articulates varietal character alongside intrigue and mystery. Aged in 500L and 600L large format barrels, this wine is characterized by an extended élevage of 30 months, and the influence of a large number of whole clusters through the fermentation. Effusive aromatics of anise and vanilla accompany ripe blueberry and blackberry with a silky finish. The Mayor is taut and lifted, balancing spice and fruit with concentrated, well-integrated tannins.
Complimenting the Mencia Mayor is one of the most compelling white wines from our Mosier Hills site to date. The 2019 Blanco is a blend of 75% Godello, 15% Albariño and 10% Viogner is an expansive wine, showing notes of orange blossom, citrus fruits, and meadow herbs, and is as refreshing as it is persistent.
We are also delighted to announce the highly anticipated return of Syrah from the Mosier Hills in our Fall release. The 2018 vintage Syrah is defined by aromas of black currant, dense cherry, and wintergreen herbs, giving way to a vibrant and lifted palate. Powerful and made to age, this wine reveals dark fruits, ripe tapenade, and cooling aromatics indicative of its moderate climate in the Mosier Hills.
Lastly, we are thrilled to include two new releases from the Oak Ridge Vineyard in the foothills of Mount Adams, which have become sought-after wines. The 2019 Chardonnay captivates the senses with lemon chiffon and a mineral salinity before a generous and lingering finish. Fresh acidity is a natural hallmark of this alpine vineyard, which reveals itself persuasively in this energetic and charismatic expression. The 2018 Pinot Noir reveals decadent cinnamon and ripe strawberry. Bright and ruby-colored, it captures the tension of hot and cool influences from the Columbia Gorge.

The Fall Bundle will be available for pickup from Friday, September 17 until we close our doors for the season late October. Though we have moved to a reservation format for all guests to ensure a relaxed and intimate experience at the winery, know that Coterie members always receive preferred reservation times and complimentary tastings of new release wines upon picking up their bundle.
Thank you for sharing our journey. We can't wait to share these new wines with you,