Once largely unknown, Mencia has been growing in popularity on the New World wine scene. Formerly only found in Northwest Spain and Portugal, this variety has gained prestige with wine writers and enthusiasts in recent years. Read on to find out what makes this grape so special, and how it found a new home in the Mosier Valley.
1. Analemma is one of the only producers of Mencia in the USA.
We are certain that we were—in fact—the first because our initial federal label application for the variety was denied.
After proving that we purchased our Mencia budwood from a USDA sanctioned source, we received a letter from the Department of The Treasury granting our permission of the variety "Mencia" on the bottle. Enophiles looking for a piece of wine history can click here to read the letter of this approval.
To this day we are aware of less than half a dozen producers of Mencia in the country. What began as a pilgrim's quest has developed into a deep relationship with this widely unknown variety.
2. Steven Thompson traveled all the way to Galicia to learn about Mencia from the greats.
Inspired by a similar climate and growing conditions found in both Galicia and the Columbia Gorge, we set out to produce meticulously grown, single-vineyard expressions of Mencia on our own soil. Analemma was honored to host one of Northwest Spain's prophets of Mencia–Raul Perez– in 2016 and were delighted by his assessment that our Mencia tasted true to form.
In 2019, Steven embarked on a journey to Galicia to deepen our understanding of this once provincial fruit. There, he spent time working in the steep-hilled vineyards, reinforcing the connection between the Gorge and Galicia.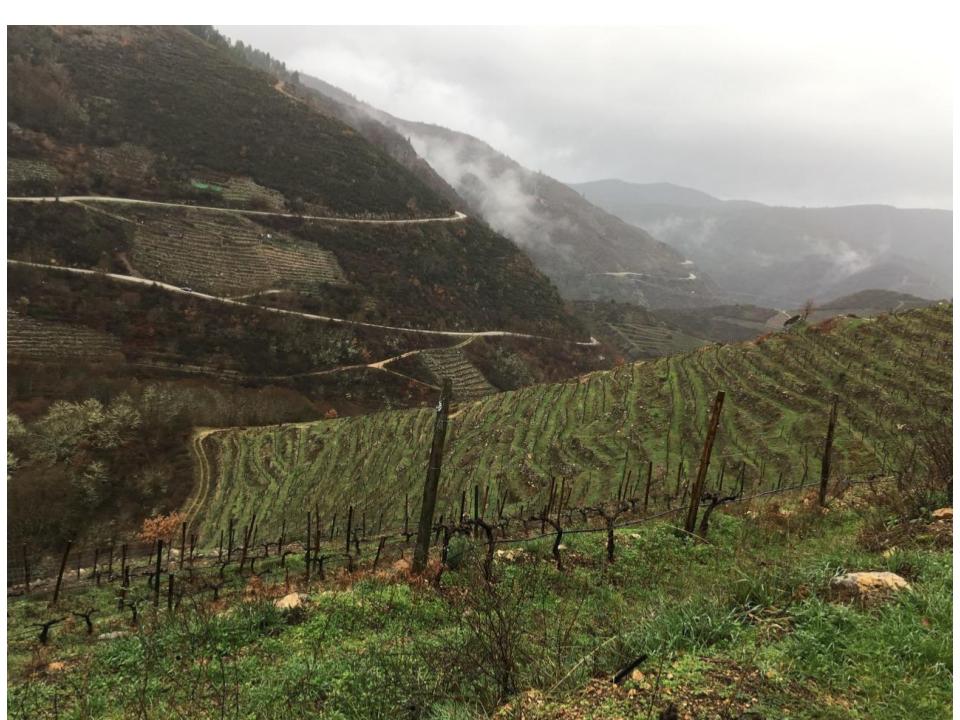 3. Mencia can be difficult to grow.
Mencia requires particular growing conditions to succeed in the vineyard. It has a tendency towards low yields, and a notorious susceptibility to disease and mildew, making it a challenging prospect for growers and winemakers.
Despite these particular challenges, Mencia has found itself at home in the Mosier Valley. Kris and Steven will joke that it in fact "grows strong, like a weed" and is our most gregarious planting – demonstrating vitality from nursery cuttings to vineyard growth. Its success here is no doubt attributed to well-suited ambient growing conditions and meticulous farming informed by observation.
4. It's the only grape we have planted across all of our property in Mosier, from hillside to home block.
Our 2019 Mosier Hills Mencia is a complex blend of grapes from our estate. It reflects vines grown in three different soil types, on three different trellis systems, and in widely differing microclimates that create complexity in the grapes' expression. Strong winds cause thicker grape skins in our upper vineyard blocks while grapes from the hillside are concentrated from the lower yields.
Its dynamism continues in the cellar, where we experiment with varying degrees of whole cluster fermentation and yet more diverse vessels for elevage. We use up to half a dozen different sizes of concrete, stainless steel, and neutral French oak to age the Mencia in your glass, resulting in both bright and vibrant, concentrated flavors.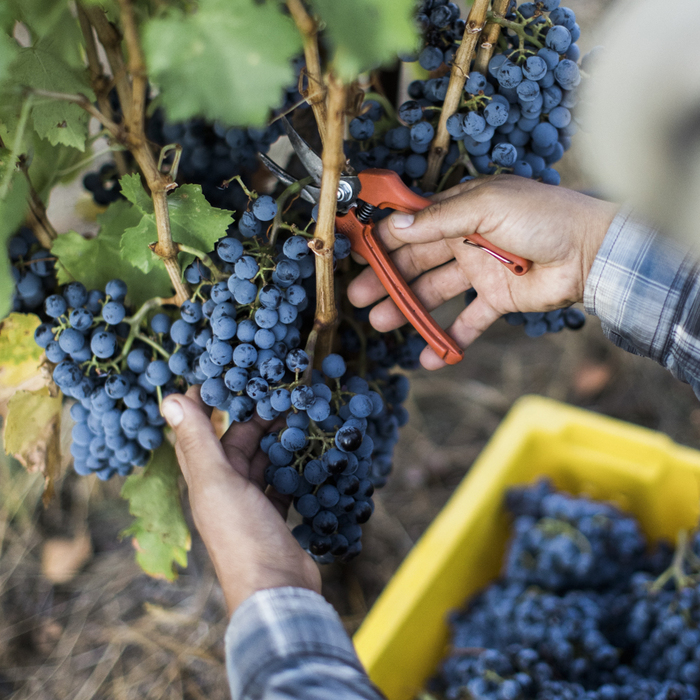 5. Karen MacNeil, author of the Wine Bible, wrote exuberantly of our Mencia earlier this winter, giving it 91 points!
Wine journalists who revel in geeky grapes have written quite a bit about Mencía – in part because it produces a wine of such elusive qualities. Eric Asimov of the New York Times has described Mencía based reds as "haunting… in all its exotic fruit, wildflower, and mineral glory." The Chicago Tribune's Bill St. John describes Mencía as a red wine like "many-colored Buddhist prayer flags fluttering in the wind… red and blue fruits… wet black stone, slate stone… juicy in texture…"
We were delighted to have our very own Mencia featured in Karen MacNeil's innovative, digital newsletter, WineSpeed. She described ours as "wonderfully spicy" comparing it to the "sleek, spicy, and rich…" Mencias grown in Northwest Spain and Portugal.
Explore our expressions of Mencia from the Mosier Hills
Mencia is an enigmatic wine that has been enticing producers for centuries and charming critics in recent years. We are delighted to share our expressions of Mencia from the Mosier Hills with you.
This blog post is part of a series in which we will reveal wines included in the Spring 2022 Coterie release one by one. We can't wait to share each of the special wines included in this exemplary collection with you.