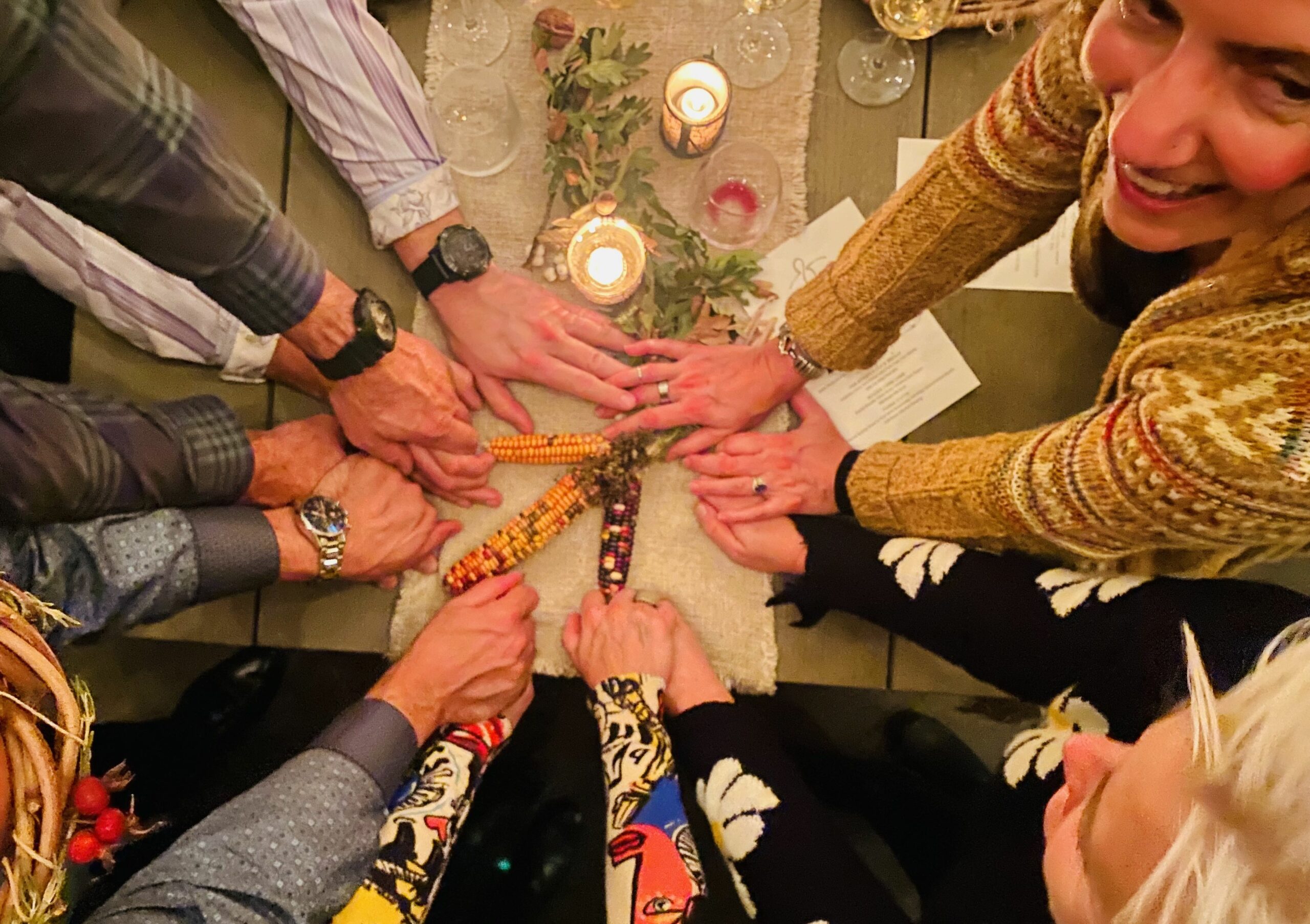 Fueled By Your Support
At Analemma, we believe our farming, our wine, and our work can change our world one farm, one bottle, and one conversation at a time.
This report, the second of its kind, represents an ongoing effort to share the successes of our values-based initiatives over the course of a year. As our business grows, so do the opportunities for us to engage in meaningful ways with the causes close to our hearts — and with you. With an emphasis on sustainability and regenerative farming practices, we endeavor to make transparent wines, indicative of time and place, that foster life and build community.
Stewardship & Sustainability
Analemma is synonymous with stewardship — an ethic that embodies the careful and responsible management of resources and permeates every activity we do. It is the why that informs our how.
In 2022, we: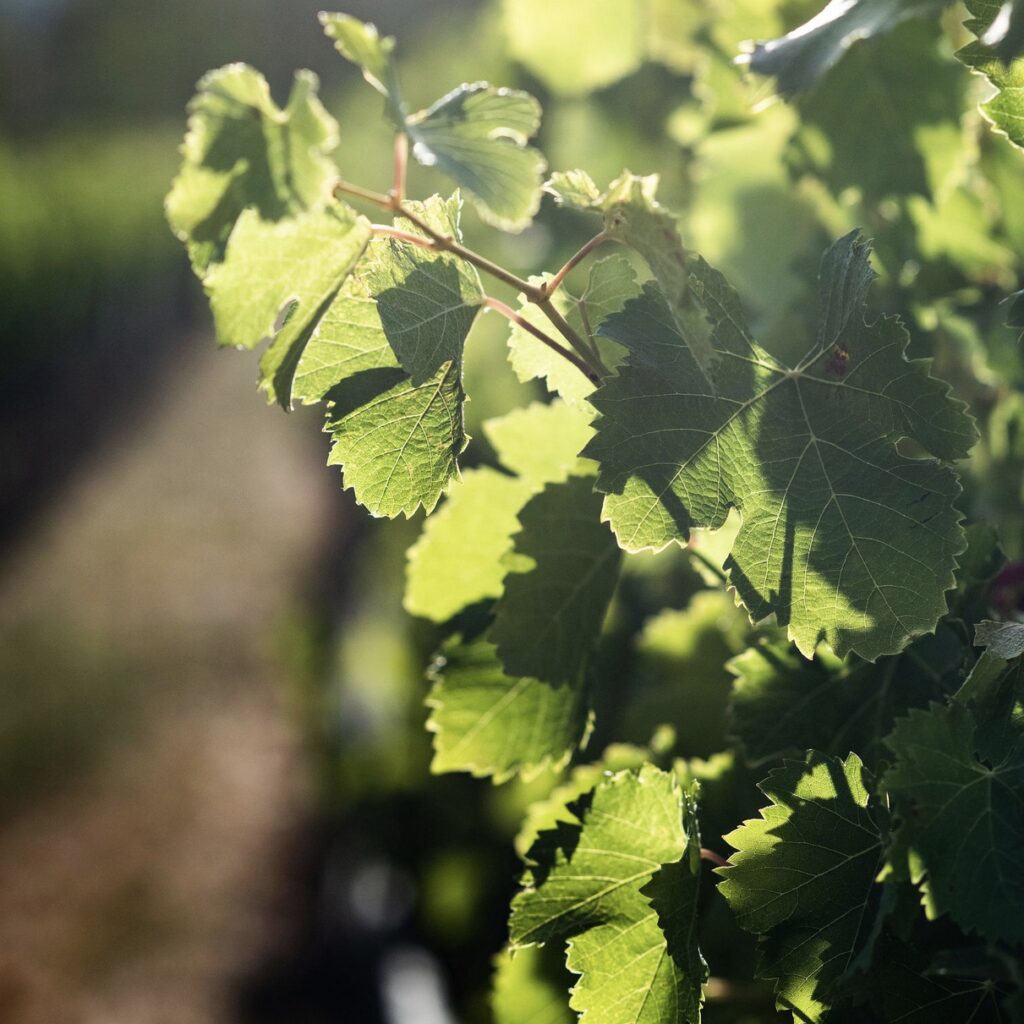 Continued to use sap analysis in the vineyard to better understand the needs of the vines. This allowed us to apply strategically targeted fertility sprays in alignment with regenerative practices, giving the plants exactly what they need and nothing more.

Adhered to guidelines set out by our National Organic Program and Demeter Biodynamic® certifications. To learn more about biodynamic farming, visit this page.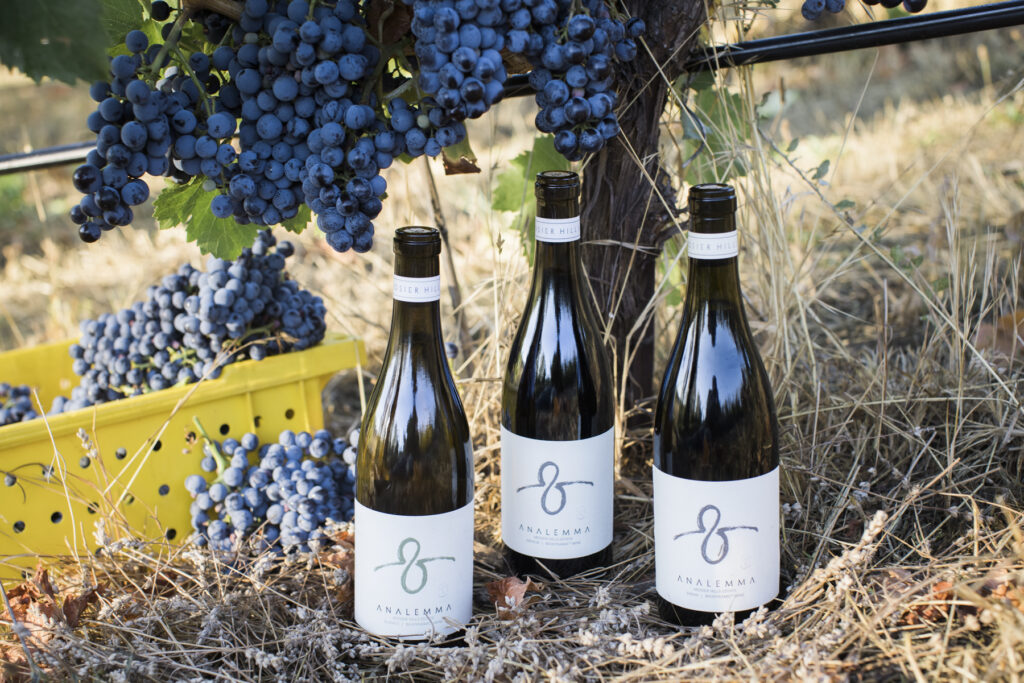 Resource Conservation
Biodynamic principles explain that we are interconnected with the land, plants, and animals around us. Rather than depleting resources on our land and beyond, we endeavor to minimize our environmental footprint and engage in activities that bring more vitality to our site and community.
In 2022, we: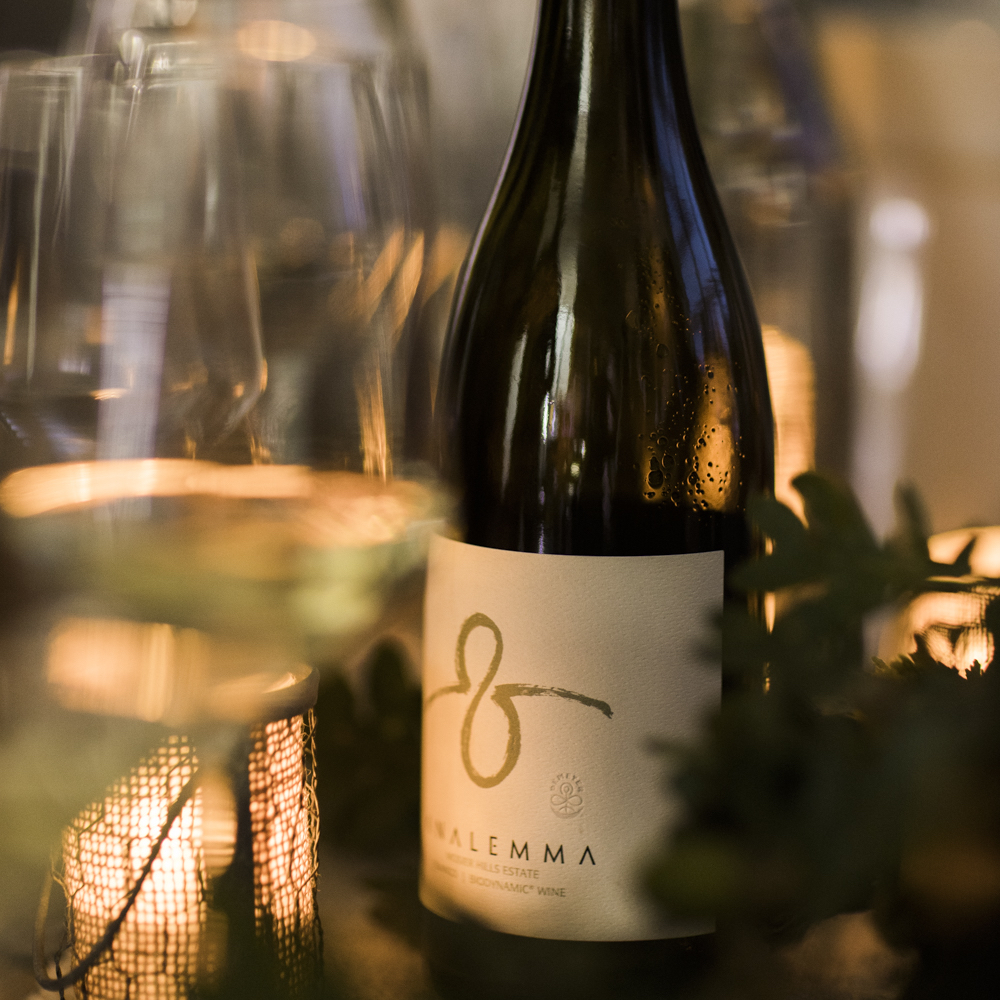 Reassessed our packaging materials. We are proud to be a winery choosing to use lightweight glass to minimize energy output during transport. Our intention to conserve resources is also reflected in our decision not to use foil capsules on our bottles.
Retained wild areas set aside on our land specifically for conservation. Over 10% of our land here in Mosier is wild and uncultivated. These wild areas are special refuges that never see the tires of a tractor and allow natural cycles to take place to completion.
Continued to use compost from our garden and animals as an organic soil amendment, enhancing life-giving conditions in the vineyard through regenerative practices.
Received another Snail Prize, a symbol awarded to a winery for the way it interprets Slow Food values. You can read more about the Slow Wine manifesto below and here.

Community
In 2022, for the first time ever, we were able to provide retirement savings and group healthcare for all of our employees. Expanding benefits above and beyond paying a living wage is the foundation of our commitment to the health, well-being, and happiness of our staff. As our team grows, so too does our commitment to supporting individual and collective growth, and to this aim we offer financial support towards our staff's professional development and education as well.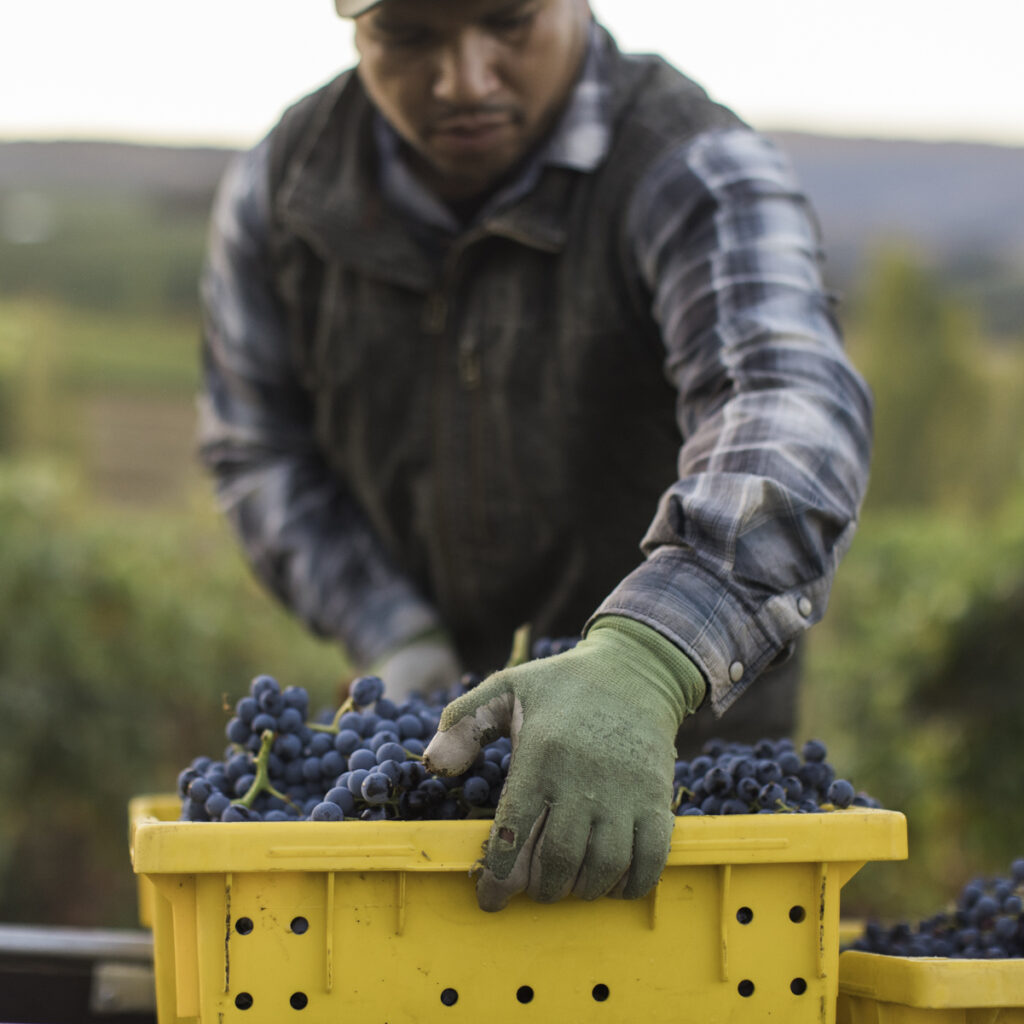 Every year, we strive to foster and create partnerships with nonprofit organizations in our community that align with our values. Collaborating with United Way was a natural fit because of our shared commitment to building strong, equitable communities. In 2022, you helped us raise $8,000 through a benefit dinner that directly funded their programs.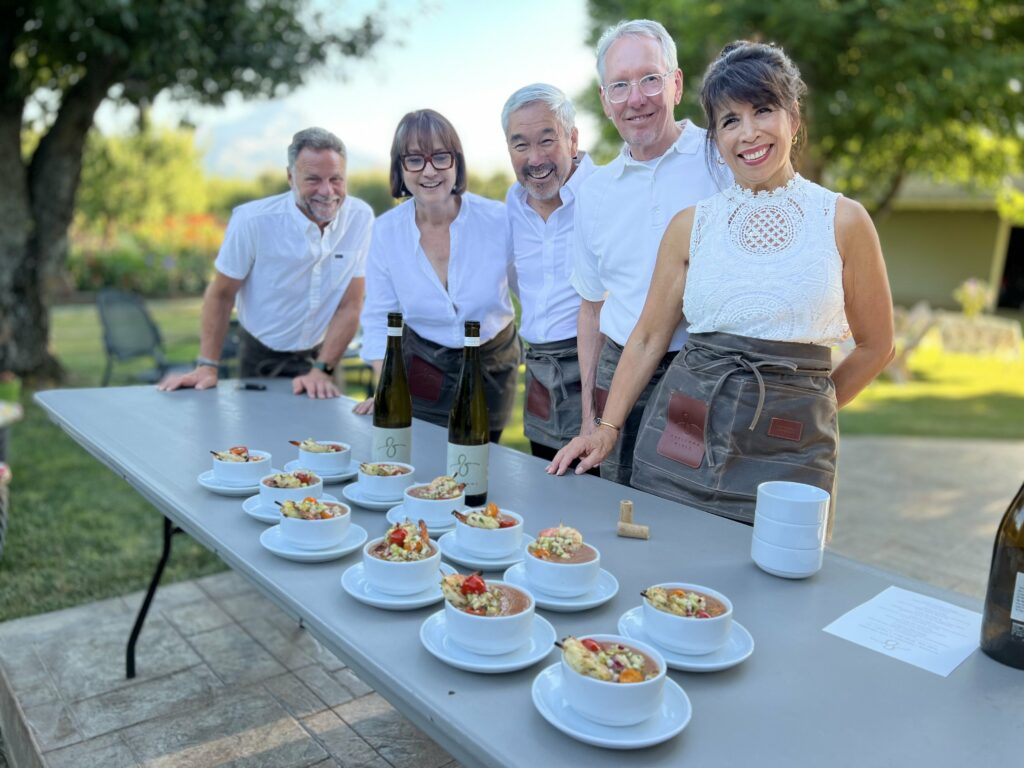 A bottle of our wine represents an experience we strive to create for all who touch our products, offering a chance to link people towards something much bigger than themselves: a connection to life and each other. In this way, nature serves as a common thread of shared human experience.
Enhanced Guest Experiences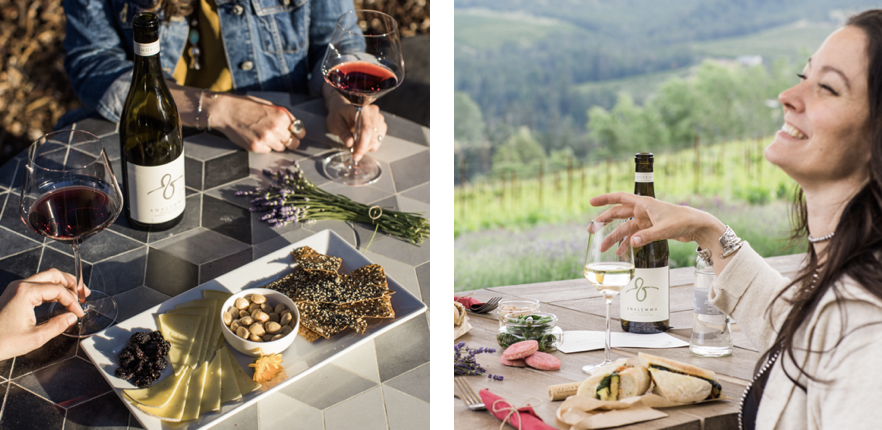 Our vision is to foster life and build community, and with every visit to our farm, you help make that a reality. Inspired by nature and driven by purpose, in 2022, we:
Expanded our culinary program using seasonal produce from our Biodynamically farmed garden as the source of inspiration.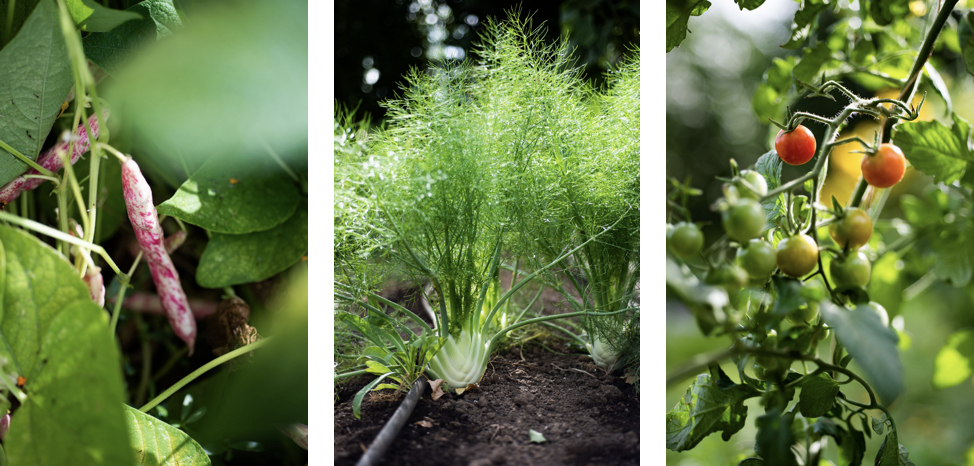 Offered five different experiences through the tasting room, each with its own unique way of engaging with our wines, vineyard, and farm.

Enhanced our member benefits, including a new member-exclusive Sparkling Wine Dinner series.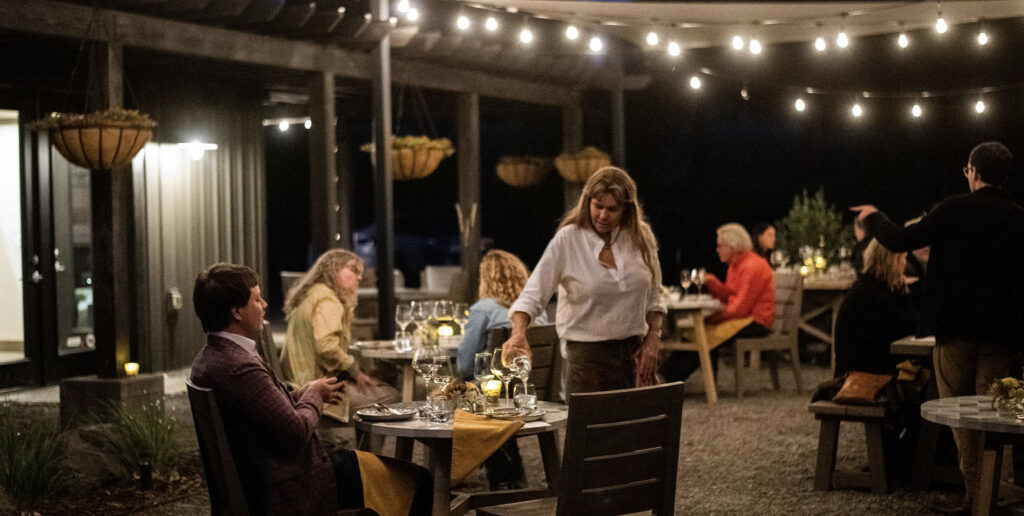 Goals for 2023
Growth, curiosity, and innovation are integral qualities of our approach to what we do. In this spirit, we've identified a number of goals for 2023 that will deepen our commitment to living our values here at Analemma. We love sharing tangible ways we work towards these goals and can't wait to implement new ways to live our values this year!
Stewardship & Sustainability
Plant fifty Oregon White Oaks on our estate in Mosier.
Oregon white oaks are crucial anchors in our ecosystem. They protect against erosion, improve soil quality, boost water retention, sequester carbon, and provide a home for countless insects, plants, and animals. As part of our commitment to not only protecting but also fostering biodiversity, we are excited to plant a number of these trees on our land this year.
Resource Conservation
Re-use Coterie bundle boxes.
This idea came from you! Since beginning the Coterie, our members have consistently brought us back their packaging in hopes of re-use, which inspired us to create a program centered around reusing this sales packaging.
Recycle corks from service and serve as a drop-off location for our community.
We are partnering with ReCORK, a company that creates natural, sustainable alternatives to petroleum-based foams and plastics using recycled corks. In doing so, we'll not only recycle the corks pulled in our tasting room, but we'll also serve as a drop-off location for members and guests!
Community
Bring our club members together through Sunsets on the Terrace.
Launch Grower Exploratory Field Tasting.
Continue encouraging sustainable tourism by collaborating with other businesses on the East Gorge Food Trail.
This summer, we will introduce another way to experience our wines onsite. This series, hosted on Saturday evenings in the vineyard, will be an opportunity for us to get to know our members even better — and for them to spend time with one another. This setting is designed to offer a convivial atmosphere with thoughtful food pairings in addition to our wines. Click here to learn more about membership and be amongst the first to hear when we announce this new offering!
Enhanced Guest Experiences
Launch Winegrower Series for members to learn how we make wine — from vine to bottle.
We've heard our members ask for new ways to engage with the process of winemaking. This new series will offer you a chance to join us in a hands-on way, beginning with regenerative farming practices in our vineyard and culminating in harvest activities like fermentation management (and tasting!). Whether you participate in just one part of the series or join us multiple times, we think this will be an incredible way to connect our guests to the land, our practices, and ultimately, our values.
We love sharing tangible ways we are working towards these goals and can't wait to show how we are living our values when you visit us in Mosier. Thank you for being on this journey with us!