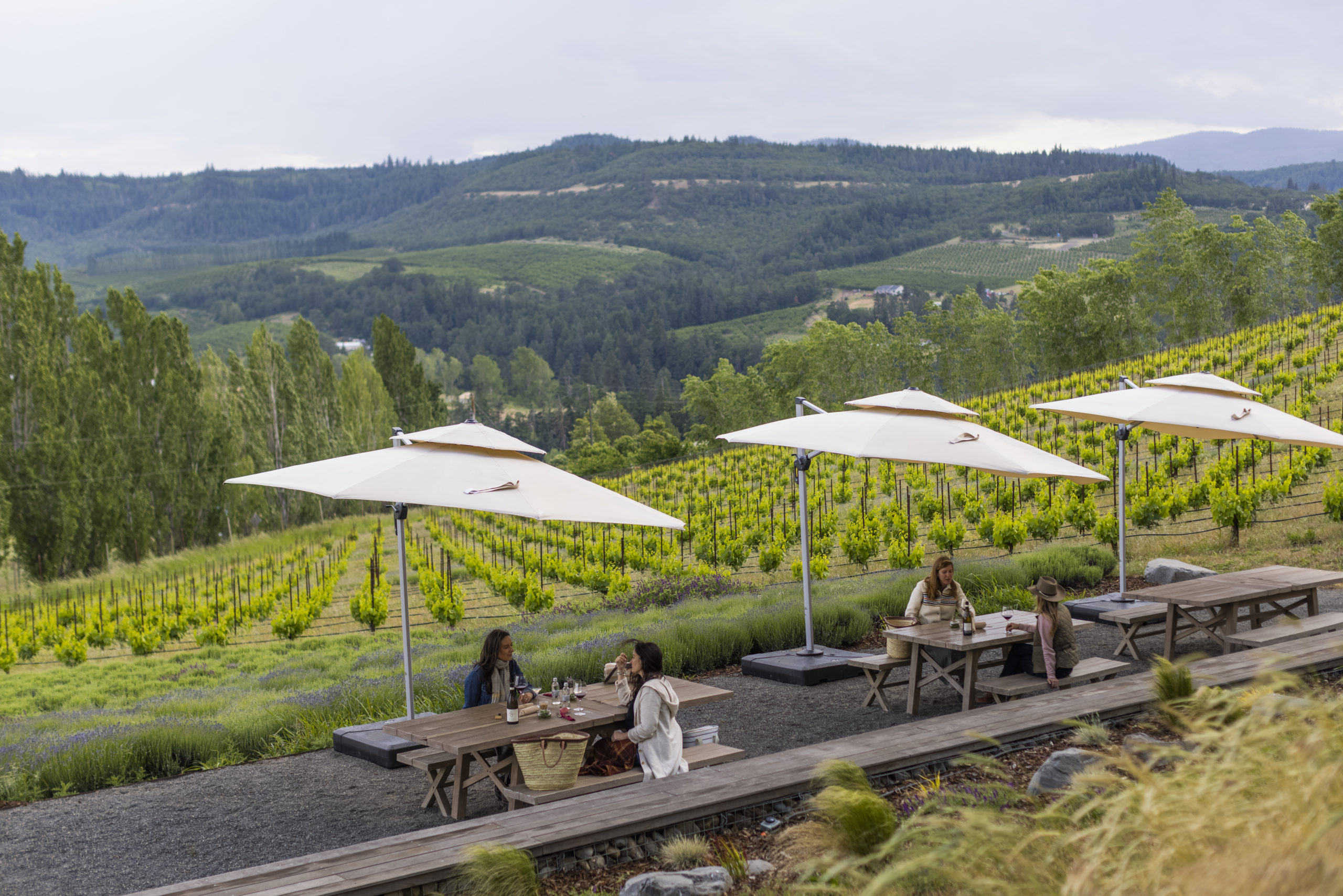 Savor the Mosier Hills
An afternoon reprieve on our Hillside Terrace or Vista
Perched above the Mosier Valley, our newly appointed Hillside Terrace is one of the most spectacular locations on our estate. Nestled among some of the United States' first Mencia vines and our lavender field, you will have a front-row seat to experience the cataclysmic forces that formed the terroir of the Columbia Gorge—including the distinctive "bathtub ring" left behind by the Missoula Floods. Protected from the Gorge winds, this semi-private location is the perfect place to connect with nature and good friends. Alternatively, settle into an adirondack chair on the Vista at the top of our estate, fondly known as the location of "the best seats in the house!" For enjoyment at either destination, select your favorite bottle from our Cellar Door and walk through our cherry orchard and vineyard for a unforgettable self-guided adventure for your group of up to 6. We reserve this experience exclusively for Coterie members.
In an effort to provide a tranquil hospitality environment, the Hillside Terrace and Vista reserved for guests 14 years of age and older. Groups with children under the age of 14 will be seated in our orchard, which is a more safe and appropriate location for children.
Tastings are not available at either of these locations. If you are interested in booking a tasting, you'll want to book an Al Fresco Tasting or Orchard Experience reservation.
– Reservation Details –
This experience is only available to Coterie members. No reservation fee will be taken at the time of booking.
Analemma's grounds are Pet Free and Smoke Free. We politely decline outside food and invite you to enjoy our Curated Bites plate during your visit.
This experience takes place outdoors at our Hillside Vineyard, about five minutes walk from the winery. We recommend a layer to protect against the wind or sun and non-fussy walking shoes.
Please note that outdoor experiences may be affected by extreme weather.
This reservation is available for up to 6 guests.
We have reserved 2 hours for your enjoyment. 
*Members who are picking up bundles always receive a complimentary tasting of new release wines with no purchase minimum required for their reservation*
Enjoy our Current Release Wines