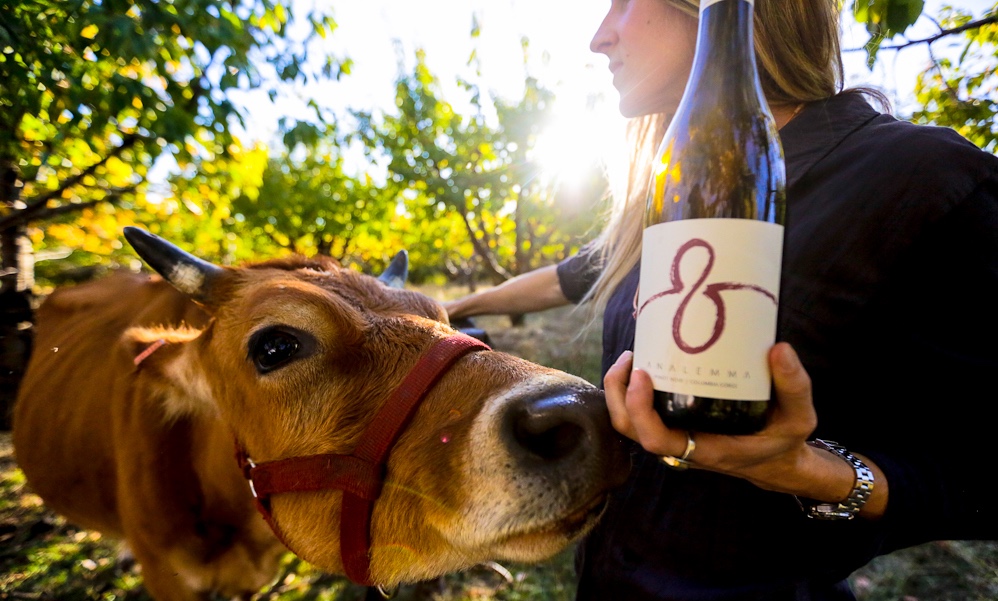 Exploratory Field Tasting
*This reservation will return in April 2022*
Join us for a classic Analemma experience.
Have you ever wondered how premium, estate-crafted wines are born? Join a member of our winegrower team to explore aspects of the quality-driven methods we use to bring the story of our unique site to life.
All of the wines featured in this unique flight are from our Mosier Hills Estate. We will share our first sip of this roving tasting at our Cellar Door, after which four wines will be poured in the context of their specific growing location. Tour highlights include a visit with our Jersey cows to discuss regenerative farming, conversation about natural winemaking techniques we employ to foster healthy yeasts for our fruit, and a toast from our hillside block overlooking the Mosier Valley.
Tours offered every Friday, Saturday and Sunday at 12 pm. *Reservation fee will be charged during visit*
– Reservation Details –
This experience includes up to 1.5 hours of tasting while walking about our estate grounds. Others may be joining you so your prompt arrival is appreciated. Please note that children and dogs are not permitted.
We encourage guests to bring non-fussy walking shoes (tennis shoes are fine), a warm layer to protect against the wind, and an adventurous spirit. We can't wait to share this quintessential Analemma experience with you.
Price: $35 per person waived with a two-bottle purchase *fee will be charged at time of visit
A three-bottle minimum purchase is required per reservation and can include wines enjoyed onsite.
We are delighted to offer special two-bottle minimum pricing for our Coterie members.
A sampling of the Exploratory Field Tasting flight