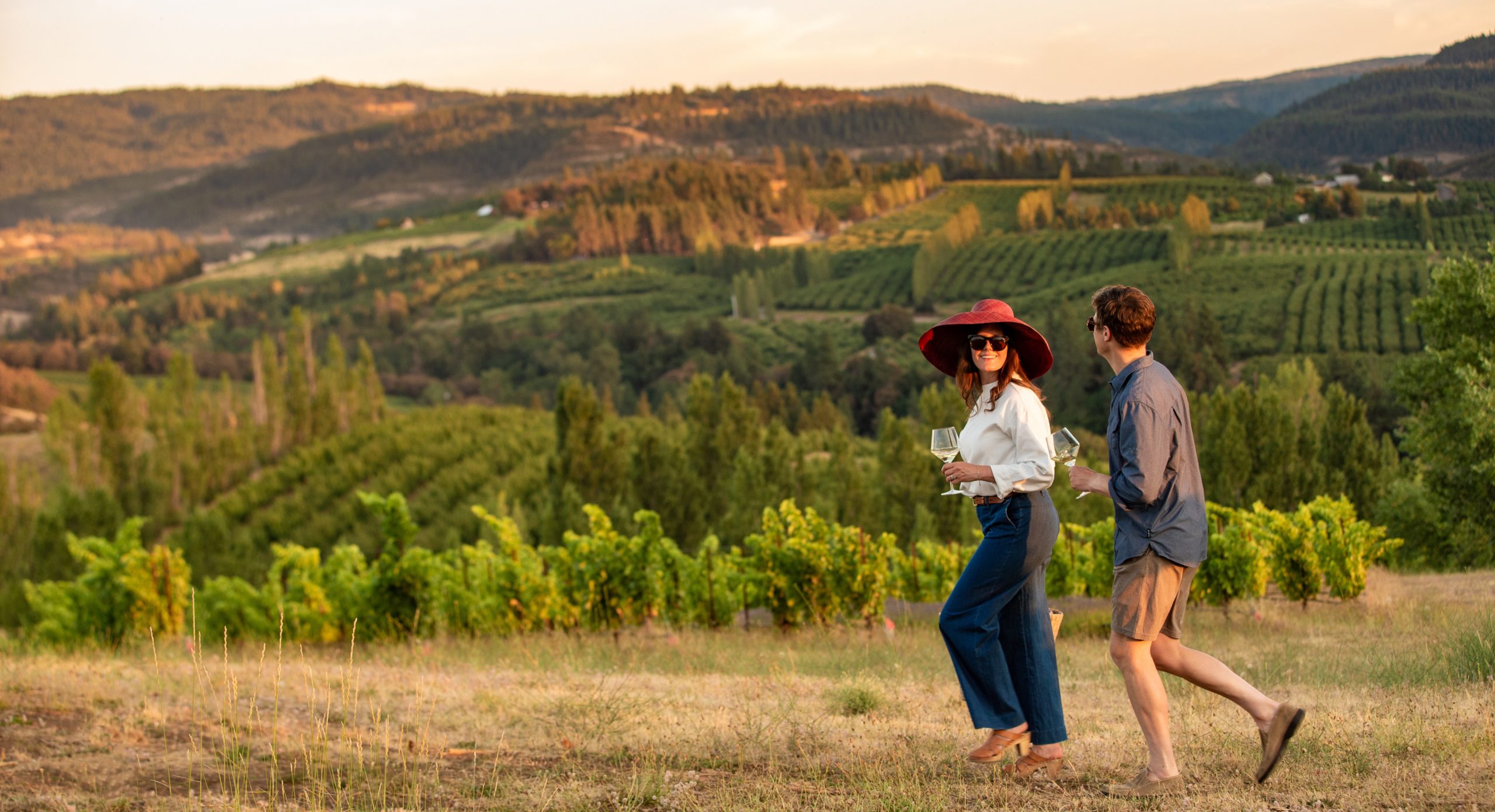 Escape to Mosier
We are excited to welcome guests to our estate grounds April through October, and–for the first time ever, to our Cellar Door on weekends in November and December!

Reservations are required for all visits excluding Coterie Clubhouse Hours.

Same day bookings available online, or give us a call at 541-478-2873.
Please consider the experience of others when visiting with children.
Winter 2023 Experiences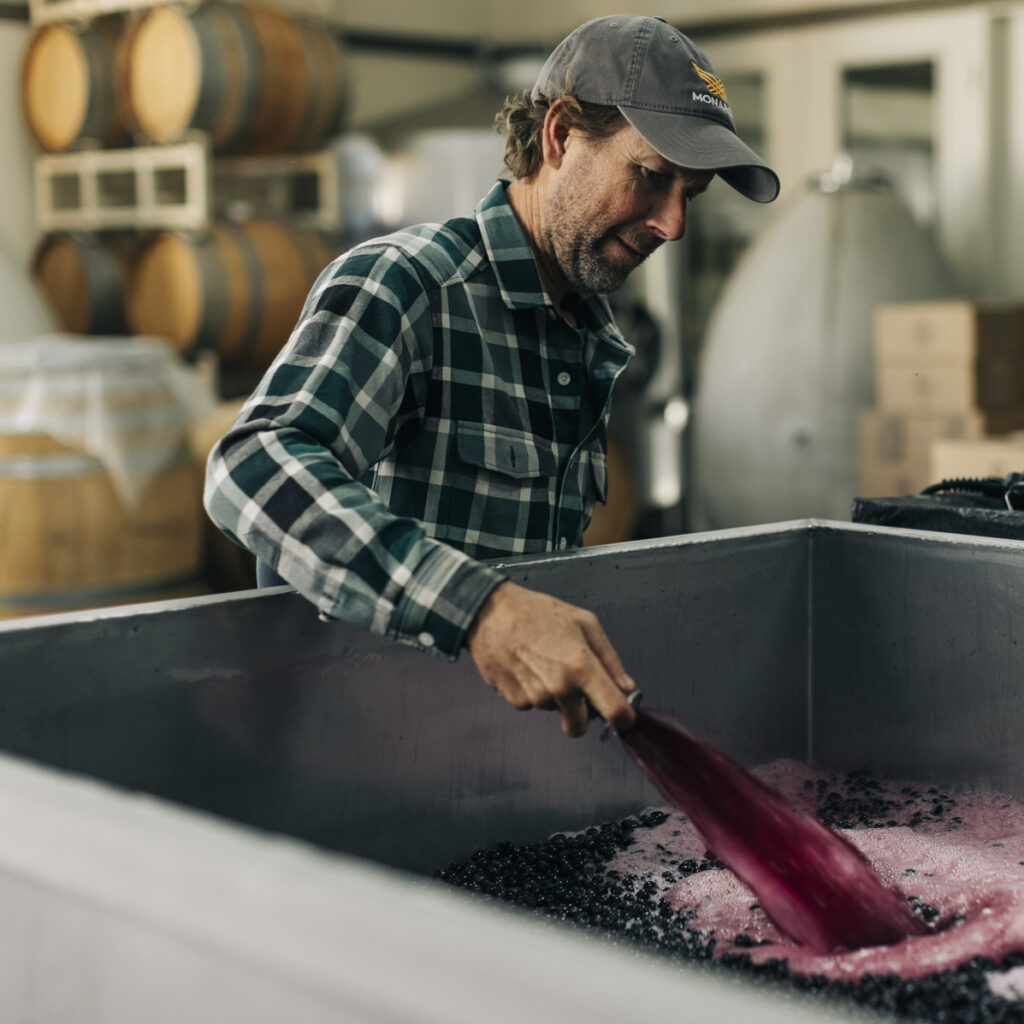 Winegrowers Tasting – NEW! A behind the scenes experience steps away from our cellar!
An intimate tasting in our cellar available on Fridays – sundays
Taste the vibrant flavors that are born as a result of our natural, transparent and intentional winegrowing methods through this semi-private tasting held inside our cellar door.
We will delve into the cellar practices that capture the voice of our terroir and create complexity in each bottling, through the cultivation of native yeast, barrel fermentation, and our commitment to shepherding the most precise flavors possible into each bottle.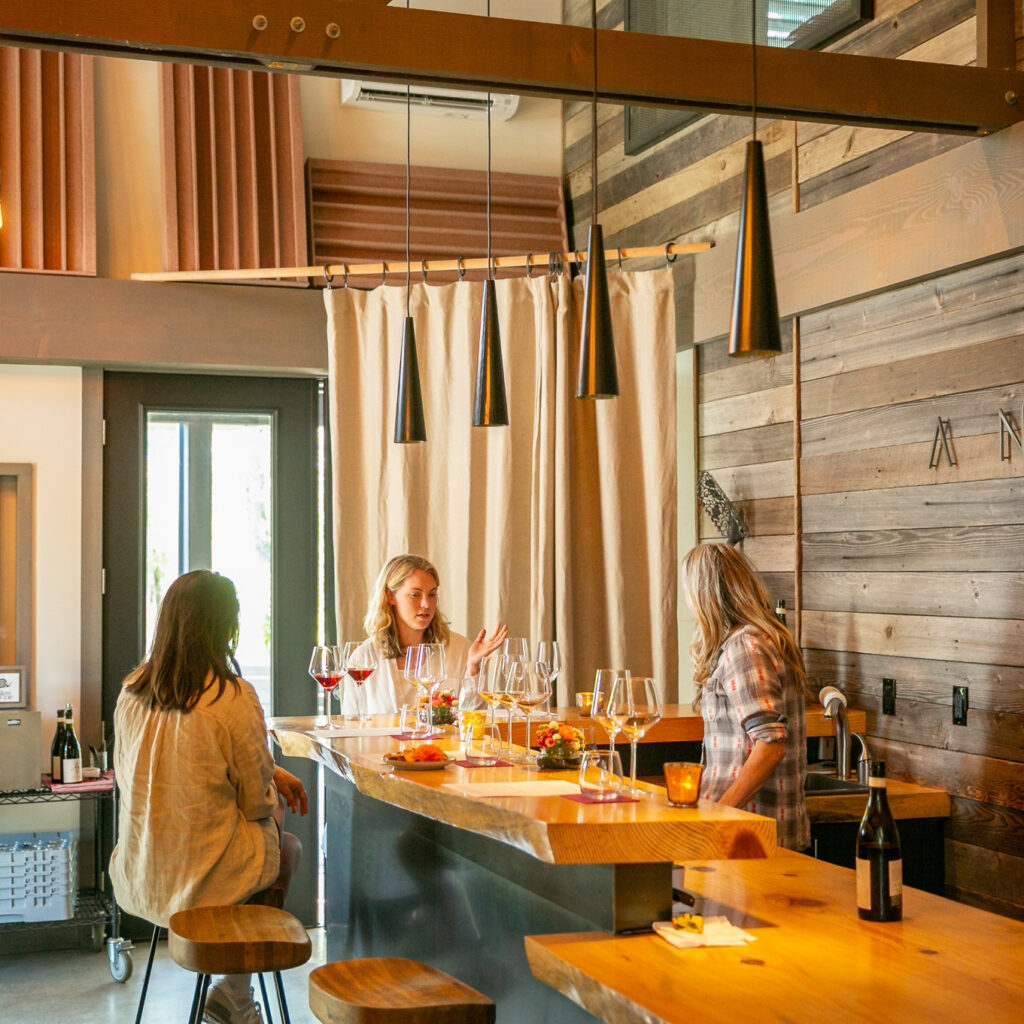 Splash & a Glass
Enjoy a Glass or Bottle with us friday – Sunday between noon – 4pm
Do you ever feel like relaxing with a glass of wine but find it difficult to make a selection? This experience is just for you!
Reserve a table inside our cozy cellar for a casual visit to sit and savor your favorite glass. Sample two "splashes" to taste followed by a glass of your choosing.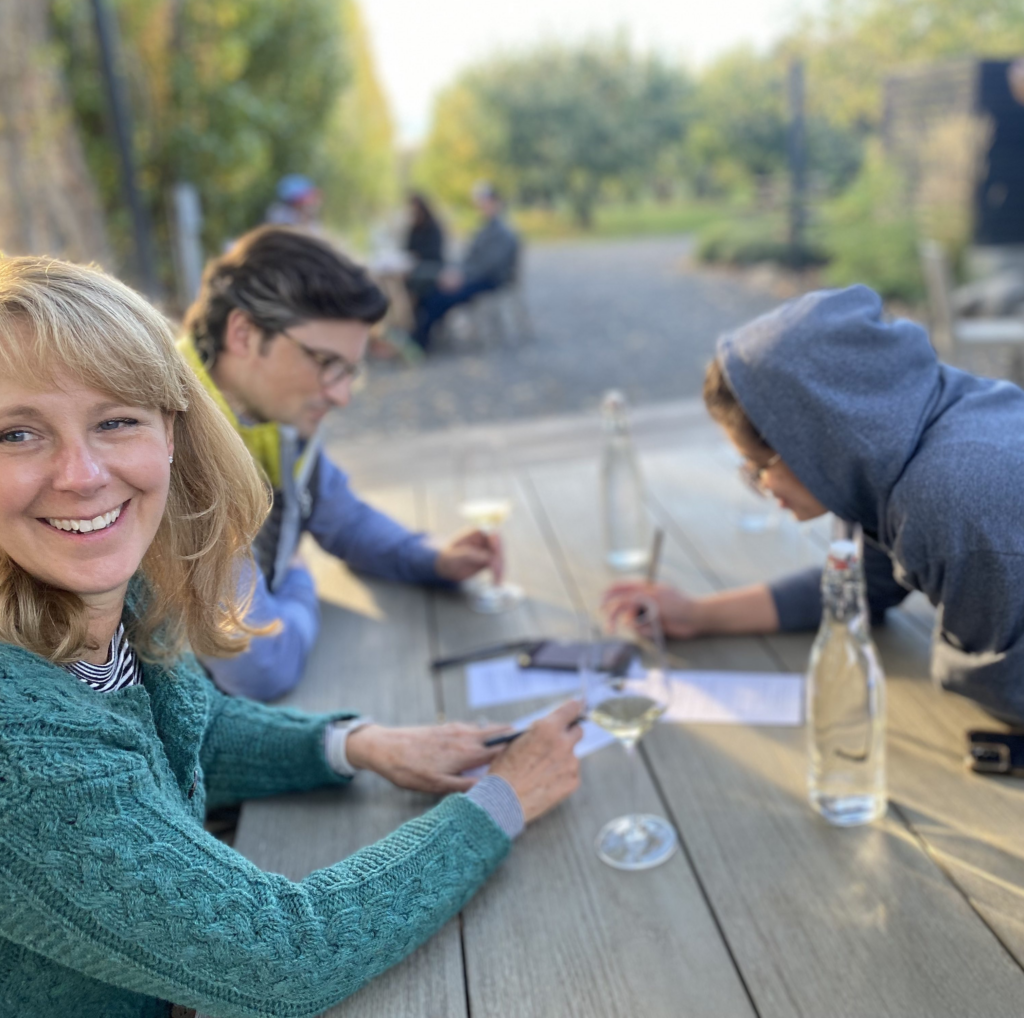 Mystery Wine Tasting
Fridays 4-6pm
Now through December 15th, gather your friends and family and join us for a fun-filled evening of blind tasting! Each tournament-culminating Mystery Wine Night will explore one wine from a producer who is inspirational to Analemma. This will be poured for guests in pursuit of discovering its origin and variety. Make new friends, refine your palate and explore a wine you may not have experienced before in this fun and exploratory tasting that promises at least a couple of laughs and perhaps a few competitive instincts.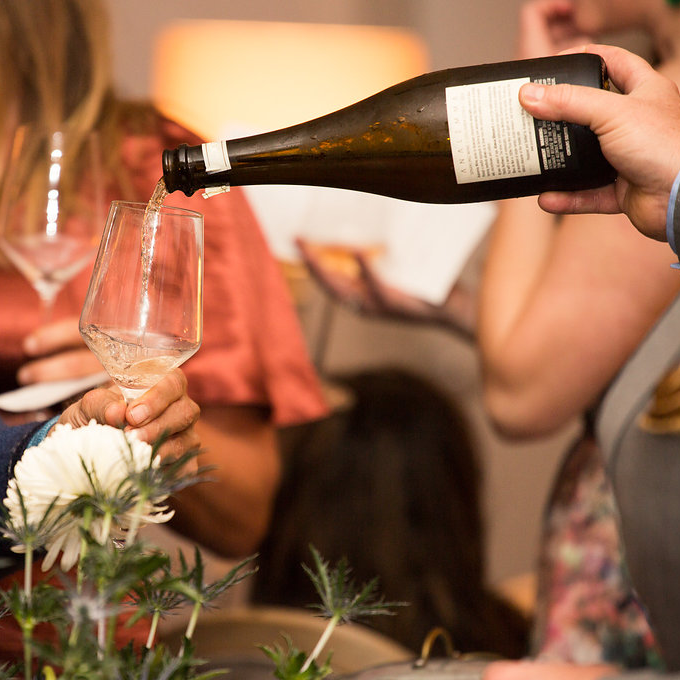 Coterie Clubhouse Hours – exclusively offered for members & their guests
Saturday & Sunday 2-4pm
We want to make it easier for our members to come see us spontaneously and have a place to land with friends and family this holiday season. Enjoy your favorite wine by the glass or bottle over good conversation and an afternoon snack in our cellar door. That's right, no reservations required!
*Not offered November 11 & 12, as we'll be setting up for the Collaboration Dinner Series*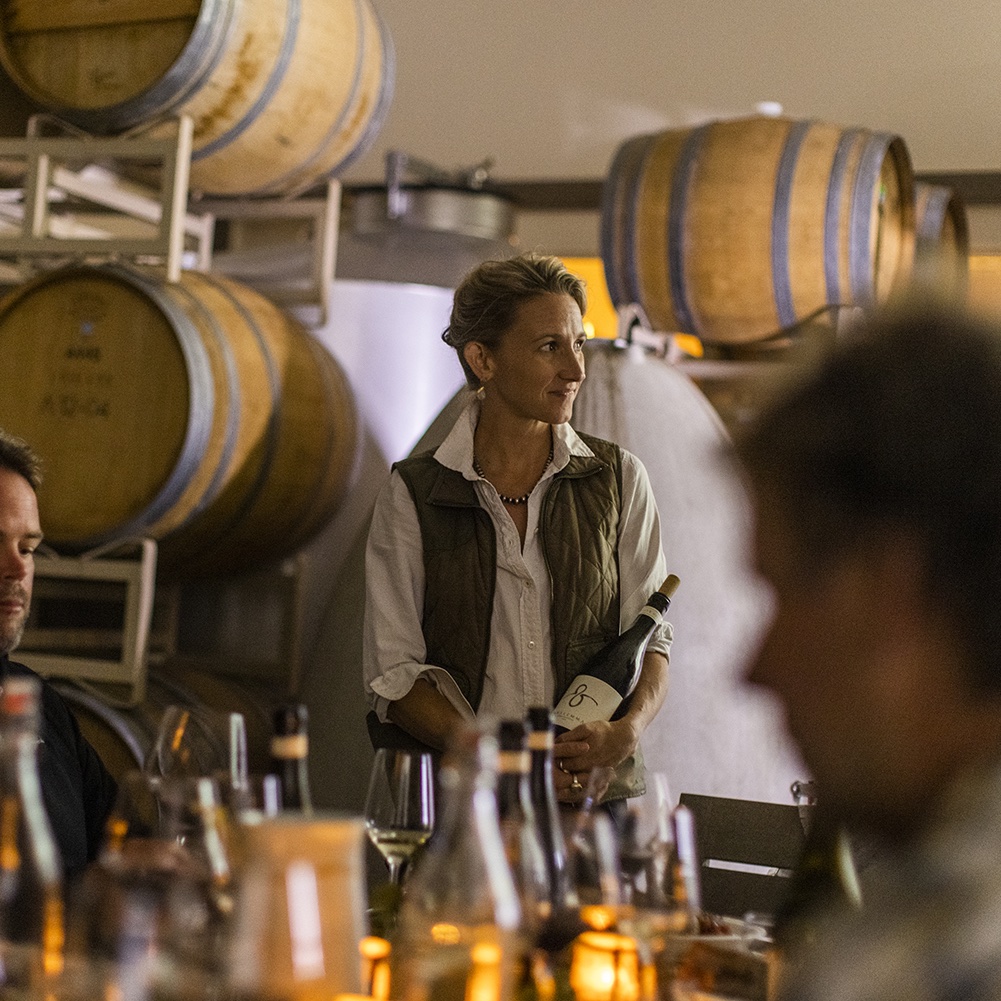 Fall Collaboration Dinner Series – Analemma x Loop de Loop
coming winter-spring 2024
It doesn't take much to get us excited about the bounty of this region, but add other producers we love in the mix and we're truly stoked! One of the reasons we love the Columbia Gorge growing region is the comradery and collaboration that defines it, and the opportunity to celebrate this through Gorge Wine Weekend makes us smile.
We invite you to experience flavors that reveal the vibrancy of this incredible landscape, paired with our wines and others from the region. 24 seats available per seating.
Join Us Spring 2024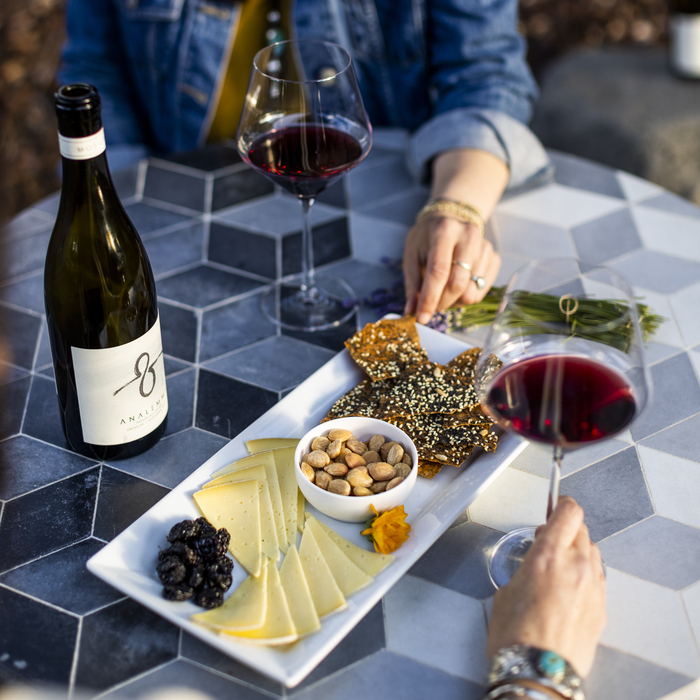 Analemma Al Fresco Tasting
Available seasonally Friday – monday by reservation
We are delighted to welcome guests to join us beside the winery and on our grounds. Sit back, relax, and let our knowledgeable team members take care of you.
This reservation is available to parties of up to four. We recommend allowing 1.5 hours for this experience. Click the button below to book and learn more details about this reservation, including a sample menu of what we're pouring.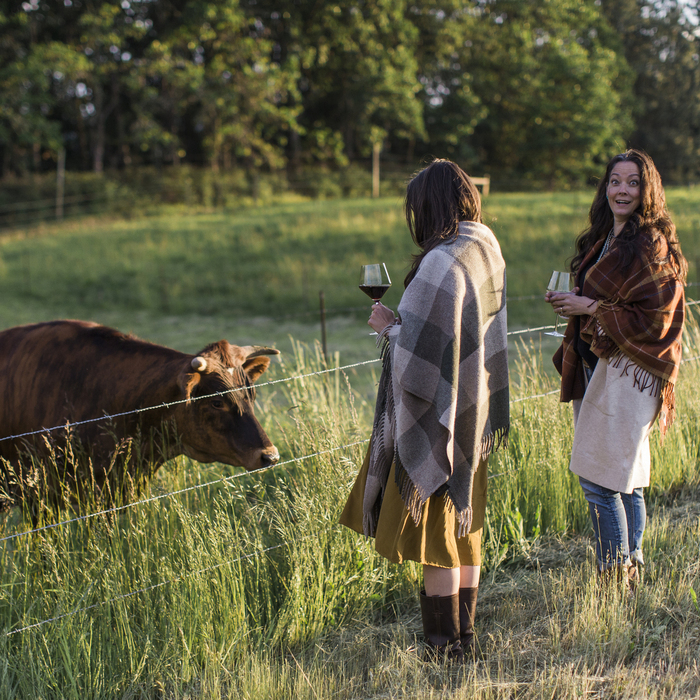 Exploratory Field Tasting – a quintessential Analemma experience!
A roving tasting available at 12:30Pm ON Fridays & 11am sundays
Join one of our winemakers on an exploration of what it means to be a Biodynamic® grower-producer. Guests will taste five wines grown on our Mosier Hills estate in the context of their specific growing site.
This experience includes 1.5 hours of tasting while exploring our estate grounds. We encourage guests bring non-fussy walking shoes, a warm layer, and an adventurous spirit.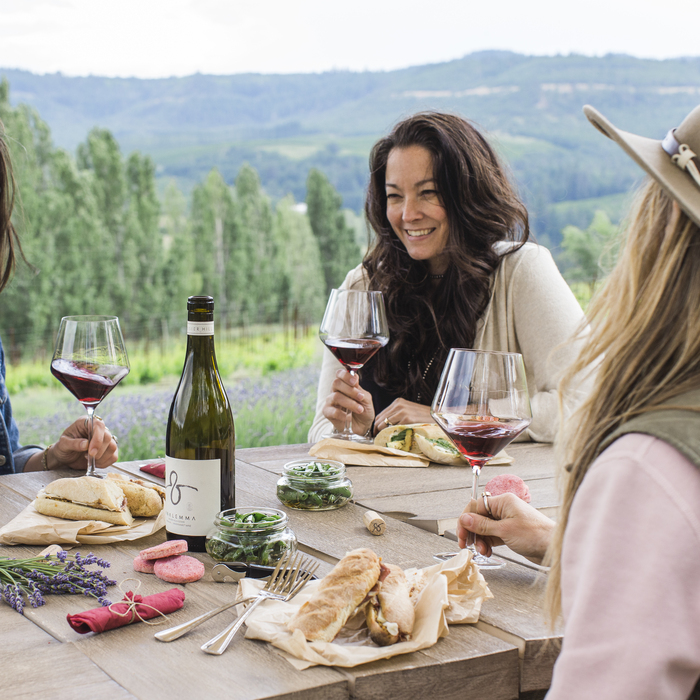 "Twenty Mile Picnic"
a gourmet picnic available on saturday & sunday
This gourmet picnic is inspired by the East Gorge Food Trail and was created in collaboration with Riverside's Executive Chef, Mark DeResta. It exclusively features ingredients sourced within 20 miles of Analemma Wines.
Analemma invites guests to settle into our Hillside Terrace for an afternoon on our estate grounds, nestled between lavender, vines, and orchard. We are thrilled to support our local farmers and Slow Food values. Click the button below to view our menu and book your reservation today. *Picnics must be booked by Thursday at 9am prior to your desired reservation weekend.*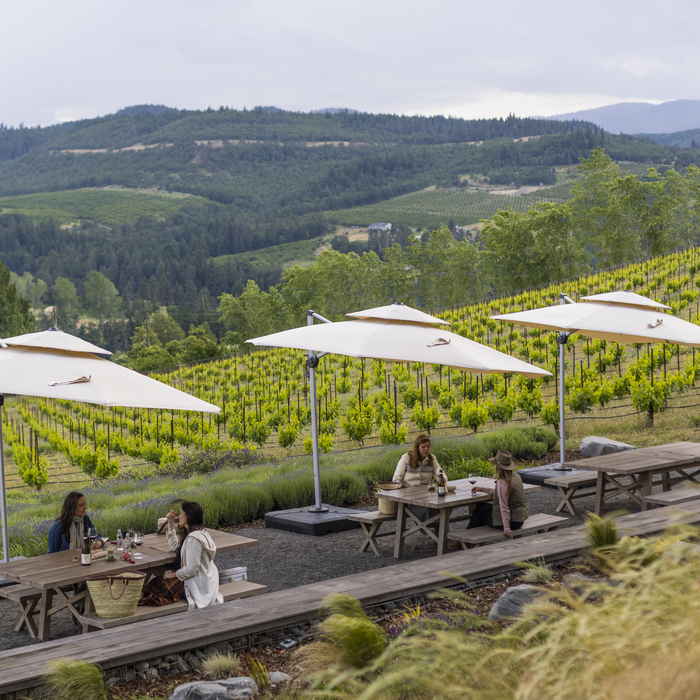 Savor the Mosier Hills – member exclusive
A self-guided experience on our hillside terrace or vista
Perched above the Mosier Valley, the Hillside Terrace is nestled between some of the country's first planted Mencia vines and our lavender field, you will have a front-row seat to experience our incredible terroir and see the cataclysmic forces that formed it—including the distinctive "bathtub ring" left behind by the Missoula Floods. For another spectacular view, settle into an adirondack chair on the Vista, featured by Travel Oregon and fondly known as the best seats in the house.
Select your favorite bottle from our Cellar Door and walk through our cherry orchard and vineyard for a unforgettable adventure for your group of up to 6.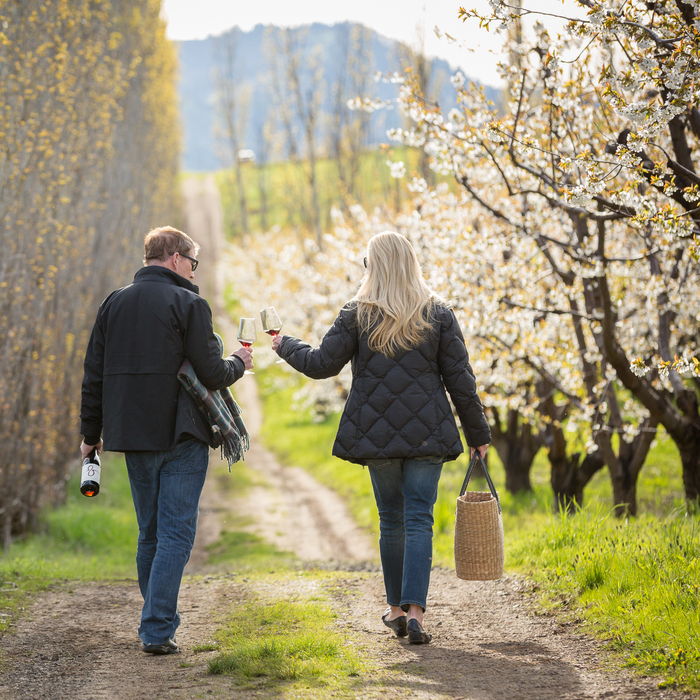 Orchard Experience
an enchanTING experience for groups of 4-6 GUESTS
Tucked into our Biodynamic® cherry orchard, this special experience is perfect for families or small groups looking for a special place to spend the afternoon.
Sip through our rotating flight of current release wines, or select your favorite bottles and enjoy the speckled sunlight streaming through the cherry trees. This private location feels off the beaten path and a throwback in time. We are delighted to share this special corner of Analemma.
Inquire about Special Members-Only Experiences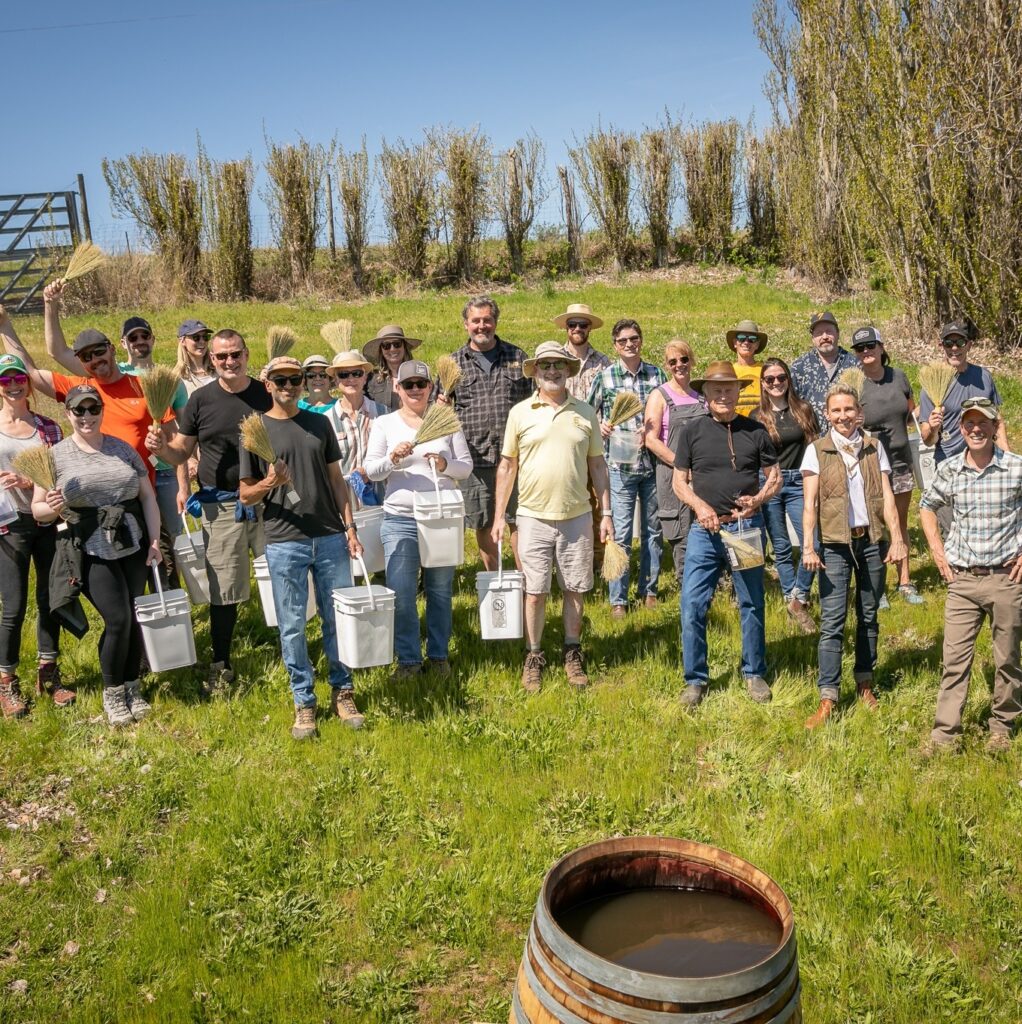 Winegrowers Series
make wine with analemma in 2024
The winegrowing process from vine to bottle! Inspired by our members' curiosity, we created this six-part series to include them in our winegrowing through the 2023 vintage. Each session includes an educational component that speaks to our process of grape growing and winemaking, a hands-on activity, and delicious bites inspired by what's in season in the Gorge. The culmination of this process will be a wine created by our community from our Mosier Hills estate, directed and made entirely by this group of dedicated members.
To ensure that cohort members get hands-on winemaking experience, the group is limited to twenty members annually.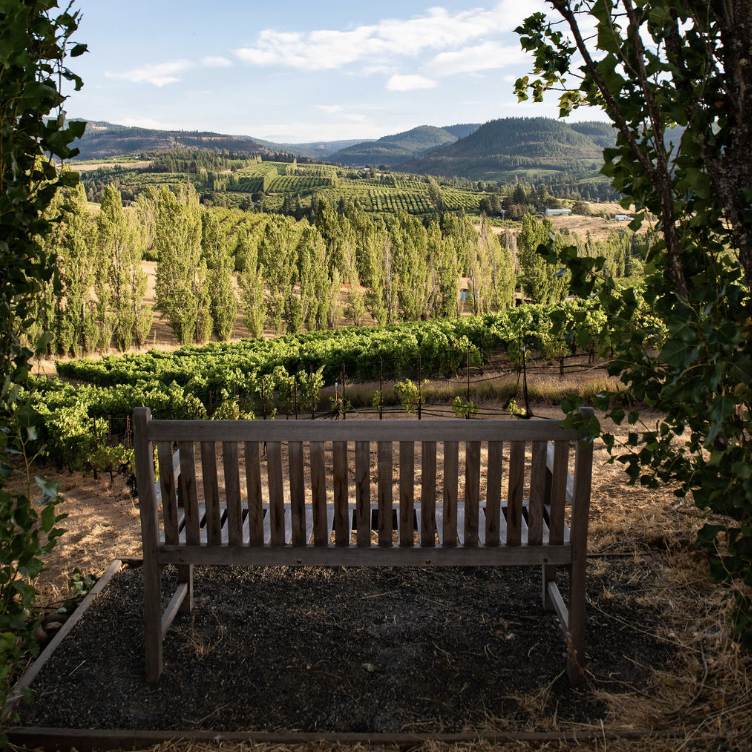 Sunsets at Analemma
Private and group seatings available select saturdays
Some of our members will recall that Sunsets were born in the summer of 2020. We are bringing them back for the same reason that initiated the concept: to be a source of connection within our community. This summer and fall, we are launching an updated take on the same concept, designed to help our members and those dear to them connect with each other through beauty, enjoyment, and time in nature. We are eager to have you to our Mosier Hills Estate during this special time of day that typically falls after closing, when we welcome the dappled light of evening again after hot summer afternoons, when the patio yearns to be enjoyed!
WELLNESS & Safety
Analemma seeks to provide an environment of safety for all guests, in which everyone experiences a feeling of belonging and respect.
Guests' feeling of safety is a top priority. Guests are welcome to wear a mask though they are no longer required by law.
It is our goal for all guests to feel respected on their visit. Please help us address you or pronounce your name to help you feel at home!
Analemma is a smoke free environment which is strictly enforced.
RESPECT OF RESIDENCES AND FARM certification
Analemma is a working farm with a dozen residents, three Jersey cows and sensitive crops. Thank you for respecting our house policies as you explore.
While we encourage all guests to roam our vineyards to build a connection with the land, we ask you not stray far from designated spaces without a guide.
Parents, thank you for watching wandering little ones near State Road!
Dogs are not permitted on our grounds due to safe crop handling laws.
Curious about our membership?
Our Coterie members always receive special pricing on all hospitality experiences–including free wine tastings, access to limited release estate wines, and member exclusive events at the winery.